Global Aquatic Research is a network of experts and laboratories dedicated to the scientific research of our marine and freshwater resources. We provide leading academic research services to large and small businesses, homeowners, universities and government institutions.

​
​Updates - Recent News and Publications
---
April 09, 2018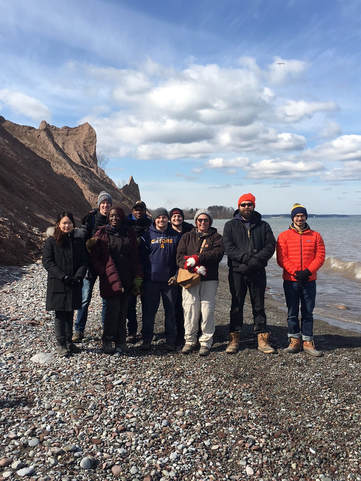 We had a great field trip to Chimney Bluffs along the shore of Lake Ontario in Huron, NY, with Professors Dr. Kathryn Tamulonis and Dr. Sharane Simon and their Junior Seminar class from Allegheny College. The class was on a five day field trip through western and central New York, focusing on glacial deposits and the underlying Paleozoic stratigraphy. Chimney Bluffs is an eroded drumlin, formed by successive deposition and reworking of glacial sediments during the last ice age. Variations in the grain sizes, layering, and compaction of the sediments forming the drumlin have resulted in unique features such as sharp pinnacles and "chimneys" as the drumlin is eroded by waves, wind, ice, and rain.
​Chimney Bluffs is one of many local natural features along the south shore of Lake Ontario that offers exciting educational experiences. Please
contact us
if you are interested in exploring this region!
---
---
March 10, 2018

Check out GAR founder Dr. Richard W. Smith's recent interview on Legitimate Matters with host William Paris, where he discusses the geological context of climate change, the earth's carbon cycle, and pollution in the ocean. ​​
---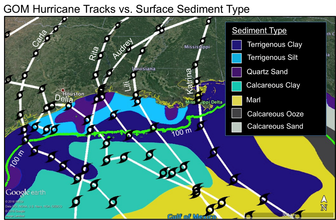 ​October 16, 2017

In collaboration with the Department of Energy (DOE), we have spent the last two years assessing the impact of tropical storms and hurricanes on continental shelf sediment, oxygen and carbon dynamics in the Gulf of Mexico. This research is in review at Nature Scientific Reports with more submissions expected at the end of the year. Stay tuned!
---
---
---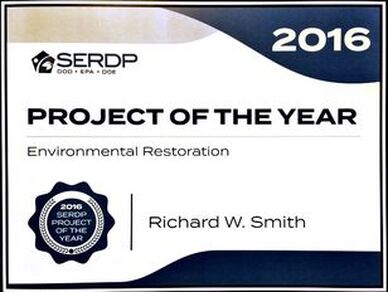 December 05, 2016
​Global Aquatic Research (GAR) and Collaborators received the
2016 Project of the Year Award
for Environmental Restoration by the Department of Defense's Strategic Environmental Research and Development Program (
DoD-SERDP
). Along with researchers at the University of Connecticut (UCONN), the United States Geological Survey (USGS), the Naval Air Warfare Center Weapons Division (NAWC), and the University of Delaware, our project "
Tracking the uptake, translocation, cycling and metabolism of munitions compounds in coastal marine ecosystems using a stable isotopic tracer
" provided the first detailed picture of the fate of military chemical munitions after being released into marine systems from disposal at sea and coastal military activity and storage.
​For more information about our work on the environmental fate of munitions compounds, please see our
consulting
webpage
---
---
March 01, 2016

​Our ​research on carbon burial in fjords ("High rates of organic carbon burial in fjord sediments globally," Nature Geoscience 8, 2016) is featured in the March 2016 issue of National Geographic ("Stored in the Fjords," pp. 34)
---
June 05, 2015
​
Dr. Richard W. Smith's research on the contribution of fjords to global carbon burial, "
High rates of organic carbon burial in fjord sediments globally
," is published in and featured on the June 2015 cover of
Nature
Geoscience.
​We show that despite covering only 0.1 % of the ocean's surface area, fjords are responsible for 10 % of its total carbon burial, sequestering an amount of organic material equivalent to sediments underlying upwelling zones and other highly productive regions.
These findings show how glacial carving creates vast regions of the coastline at high latitudes where efficient depositional zones (fjords) are adjacent to erosive mountain chains, resulting in the rapid transfer of terrestrially-derived carbon to marine sediments with little alteration.
---
Press
Article: Smith, Richard W., Bianchi, T.S., Allison, M., Savage, C., Galy, V. (2015) High rates of organic carbon burial in fjord sediments globally. Nature Geoscience, doi: 10.1038/ngeo2421
---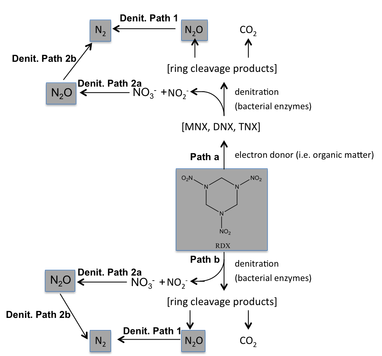 September 01, 2015
Four years of research into the transport and fate of explosive compounds has resulted in new models for
TNT
(2,4,6-trinitrotoluene) and
RDX
(1,3,5-trinitro-1,3,5-triazine) sorption, uptake, transformation and mineralization
in aquatic systems
. In collaboration with the University of Connecticut, United States Geological Survey, and the Naval Air Warfare Center, we designed and carried out a series of mesocosm experiments simulating natural coastal marine conditions and applied a mass balance approach with the aid of isotopically labelled 'tracer compounds'. The new models for RDX and TNT were published as two separate articles this year in
Environmental Science and Technology.

Articles:
Smith, R.W
., Vlahos P., Bohlke J.K., Ariyarathna T., Ballentine M., Cooper C., Fallis S., Groshens T.J. and Tobias C. 2015. Tracing the cycling and fate of the explosive 2,4,6-Trinitrotoluene in coastal marine systems with a stable isotopic tracer, 15N-[TNT].
Environmental Science and Technology
49, 12223-12231.
LINK
Smith, R.W.
, Tobias C., Vlahos P., Cooper C., Ballentine M., Ariyarathna, T., Fallis S. and Groshens T.J. 2015. Mineralization of RDX-derived nitrogen to N2 via denitrification in coastal marine sediments.
Environmental Science and Technology
49, 2180-2187.
LINK
---